My friends, I am feeling a little bit brain-dead, partly because I did not sleep well last night (who turned the weather up suddenly, seriously) but mostly because I spent the best part of three days stuffing astronomy-related knowledge into my brain and then spent the best part of three hours vomiting it up into an exam this morning. And on the day of the Race That Stops A Nation Except For Students Of Universities On Federal Land, too. (But then again, state police can't arrest us on campus so there are perks.)
And so my brain is saturated (saturated? Out, damn geology! Come back in March!) with knowledge that I won't need in the immediate future, there's no room left for knowledge about the exam on friday, and I'm not exactly sure how a salad can solve this but it did stop me being hungry. And if you too are suffering from a full brain and an empty stomach, maybe salad will work for you too.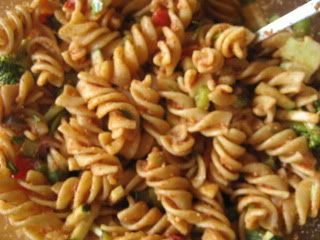 The Exams Pasta Salad, El-style, step-by-step

Read food blogs; become hungry.
Determine to make pasta salad.
Find that key ingredient for pasta salad is lacking.
Trip to shops.
Return from shops, triumphant.
Begin cooking pasta.
Find various things in fridge that might go in a salad, which include but are not limited to: half a zucchini, small piece of broccoli, tomato paste, olives, half a tomato, sundried tomatos, parsley, few stalks of coriander, half a capsicum, remains of dip, etc.
Chop desired vegetables into small pieces.
Discover that tomato paste has Fallen In With A Bad Crowd.
Remove parts of tomato paste that have Fallen In With A Bad Crowd.
Stop pasta boiling, drain.
Put pasta in bowl.
Add tomato, tomato paste. Mix.
Add other things bit by bit; mix.
Taste test; good but lacking in salt, and slightly too acidic.
Enter olives and parmesan cheese, stage left.
Taste test again.
Satisfaction.
Eat.
Blog about it.
Also, good luck to all of you doing NaNo!
- I've missed the boat for NaBloPoMo, but at least I am free after the 6th, and it is my birthday next week! So it will be an entertaining November, as Novembers should be. And now I should go and start revision for my friday exam, fuelled by pasta and other things.